This is a yummy self-made whole wheat bread. It contains 3/4 parts of white flour and 1/4 part of whole wheat flour. I think that's an optimal mix, because it will not be too dry. Of course, our children like to eat white bread or Swiss braided bread, but this brown bread is also very popular with them.
Ingredients:
3 cup (380 g exactly) white flour
1 cup (120 g) whole wheat flour
3 teaspoon yeast
1 teaspoon salt
1 teaspoon sugar
3-3.5 dl warm water
First I always prepare all ingredients because this way you have a good overview and it is the fastest way to process.
Processing:
Take a big bowl and put the white flour and the whole wheat flour in, mix well. Then form a hole in the middle and add yeast, sugar and slowly warm water (not hot). Stir and add more water and salt. Add as much water until the dough is smooth.
Knead well by hand for at least 10 minutes. Leave it for about 1.5 hours at room temperature and allow the dough to ferment until it has doubled in size.
When the dough finally has doubled, knead well again. Form the dough into a bread. I always cut a nice pattern into the bread with my knife. Create something as you wish.
Place the bread for 15 minutes on a greased baking tray. Brush lightly with some water.
Baking the whole wheat bread:
Put the tray into the cold oven and bake it at 180°C (fan bake) for about 40 minutes until the bread crust has a nice golden brown color. Test if ready: tap the bottom of the bread, if it sounds hollow then the bread is done. I always cover it after the baking with a clean kitchen towel so the bread crust will not be too hard at the end. Let it cool down completely on a wire rack.
Advice for baking:
I have a good suggestion for baking: put a bowl of water in the oven, which will make the bread not too dry.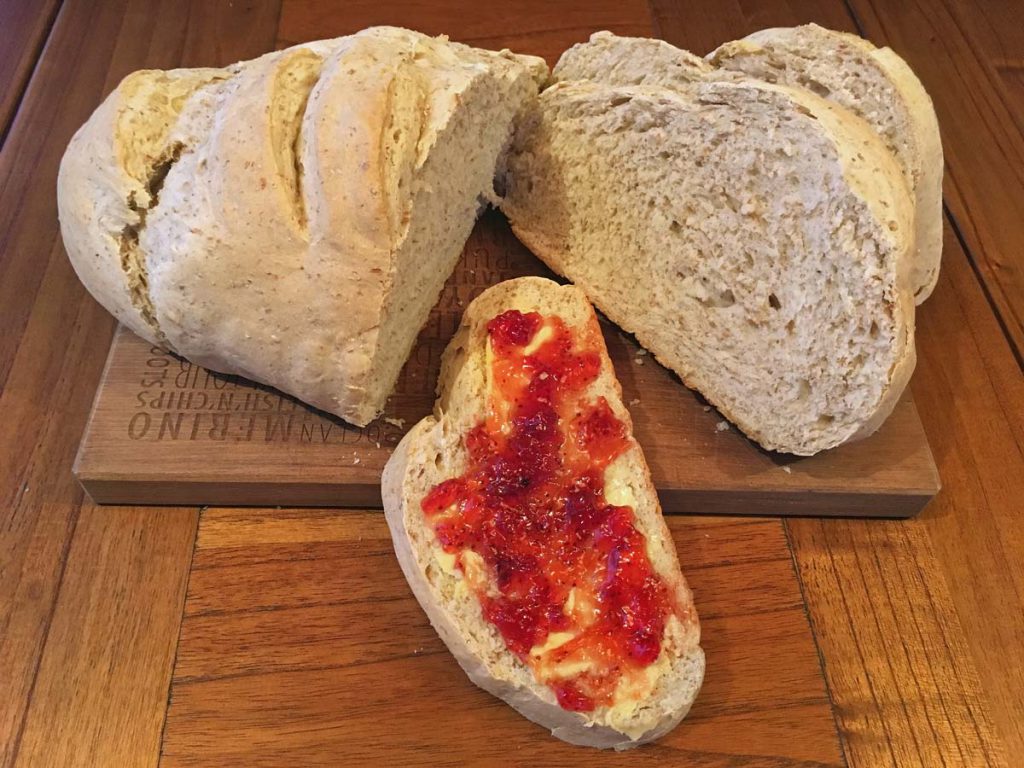 Enjoy the brown bread with butter and jam or honey! If you like baking and eating self made bread try the Swiss braided bread, yummy! If you need some kitchen tools please have a look here at swissproductsonline.com you will find swiss products with very competitive prices.