For me, there is nothing better than eating a freshly baked Swiss braided bread, also called Hefezopf (yeast braided bread) or Butterzopf (butter braided bread). I eat it with sweet butter and honey for breakfast at the weekend. Yummy!
Swiss braided bread – Hefezopf, Butterzopf
I regularly bake a fresh Swiss braided bread, our children and of course the adults love it. During the week, we eat a lot of dark bread with healthy wholegrain. Also often homemade.
The Swiss braided bread contains milk and butter, that gives a lovely soft texture.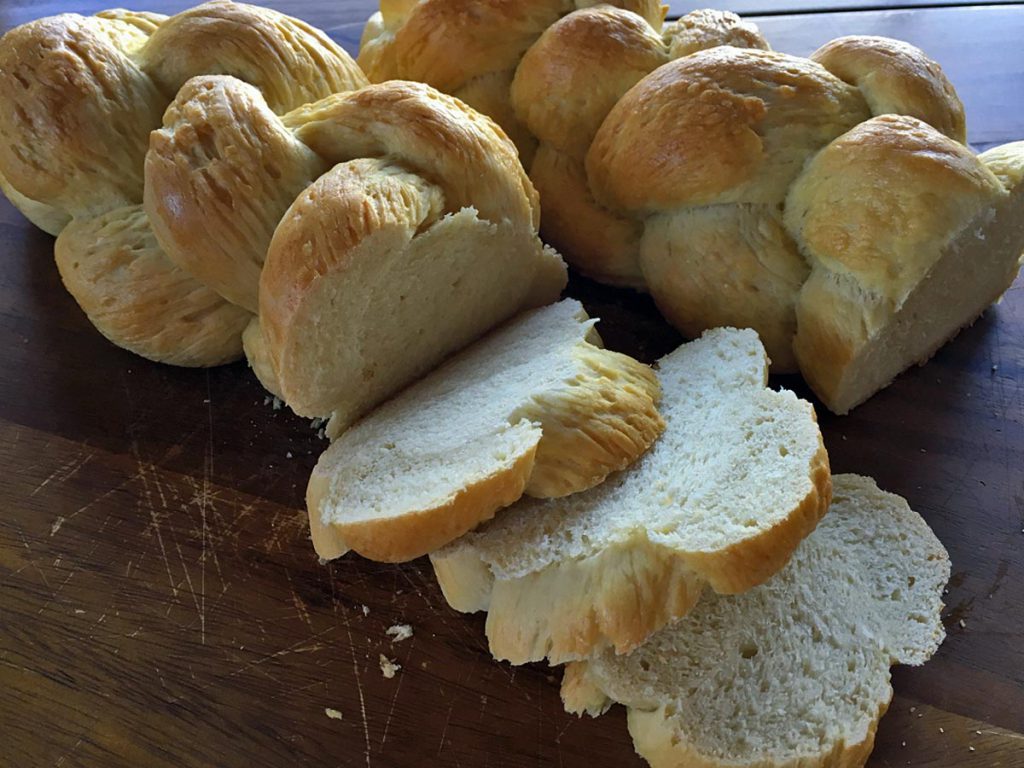 Baking abroad
When we travel abroad and there is no fresh bread, I bake the bread myself. My family loves it a lot! I love to bake Swiss braided braid, wholemeal bread, but also chocolate rolls, pizza dough or other pastries.
Sometimes for my children's joy self-made Chocolate Chips Cookies or Cookies with Smarties. As soon as I am abroad in an accommodation, I check to see if there is an oven. If so, then I go shopping for buying the ingredients for baking.
Ingredients for tasty Swiss braided bread:
1 kg flour
1 egg
5.5 dl milk
1 tablespoon sugar
100g butter
5 teaspoon yeast
3 teaspoons salt
1 egg with 1 tablespoon of milk
Processing:
put the flour in a big bowl
form a hole in the middle
stir in lukewarm milk with the yeast and sugar
then stir in the softened butter
add the egg and salt
Mix well until a smooth dough is formed. Knead well by hand for at least 10 minutes. Then place dough in a bowl, cover with a clean kitchen towel. Leave it for about 1.5 hours at room temperature and allow the dough to ferment until double in bulk.
When the dough has doubled, knead well again. Cut dough in half and roll both halves into long strings. Braid the dough into a "Zopf".
Place the braided bread for 1/2 hour on a greased baking tray. Brush lightly with the egg/milk mixture.
Baking
Put the tray into the cold oven and bake it at 180 degrees (fan bake) for about 35-40 minutes until golden brown. Test if ready: tap the bottom of the Swiss braided bread, if it sounds hollow then the bread is done. Let cool completely on a wire rack.
Enjoy with butter, honey or yummy jam!
Braided bread with wholegrain flour
Just try variations and replace a quarter of the white flour with wholegrain flour. Or remove the egg and increase the amount of milk to 6 dl.
I suggest to try the self-made whole wheat bread if you like brown bread! Or try the awesome animal bread made from yeast dough!