Phuket to Phang Nga
Do you want to see Thailand from the non-tourist side? Do you love the close contact with locals? Then I can only recommend you to rent a car and start a journey. You will remember the helpfulness of the locals, the excellent food, the landscapes and experiences for a long time.
Of course, at this point, I have to mention that driving yourself in Thailand can be very challenging. I recommend this journey by car only to experienced drivers who are also used to drive on the left side of the road.
Car rental in Thailand
One weekend my husband and me rented a car and drove off towards noon on a Saturday. Please ask your friend on site, which car rentals he can recommend. If it is required that the passport has to be left in the rental station as a deposit, please do not leave the original but only a copy. Pay attention to a properly completed lease and carefully enter all defects in the log. If no takeover log is created, I suggest that you take photos of the condition. This is very helpful in case of any liability claims on the part of the landlord.
On this journey we first went from Chalong Phuket, Thailand to the airport and then on to Phang Nga. The traffic on Phuket was initially getting used to and it took us about one hour to cross the bridge to the mainland.
Phang Nga to Surat Thani and Lang Suan
From the mainland we took the direction Phang Nga / Surat Thani under the wheels. As we were on a 4-lane highway there was not so much traffic, so we quickly approached to our destination. However, such a highway should not be confused with an European motorway. On a Thai freeway you always meet wrong-way drivers, pedestrians, cyclists and moped riders. Again, caution is needed. Once we drove inland on a country road and suddenly the road was blocked by a car in the middle of the street. The driver wanted to turn briefly on a well-traveled road…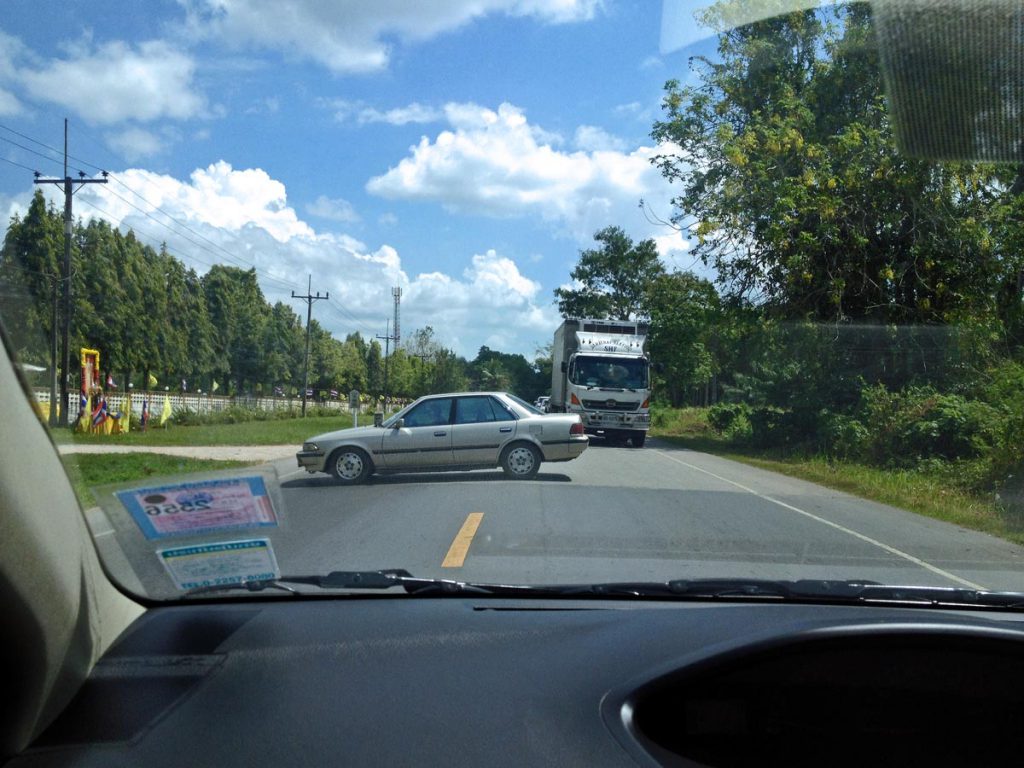 After Surat Thani, which is located on the east coast, we drove up on the coast towards Lang Suan. The landscape is really beautiful. In Lang Suan we looked for accommodation and drove all over the town until we were over on each intersection from each side – and we just did not find anything to stay.
When we returned to the highway, we saw a hotel. Unfortunately, this did not meet our expectations, it could have been described as a 1-star hotel. So we went a bit further and who said, after only 1 km we arrived at a Thai resort. Very simple, but bungalows with toilet, shower, satellite TV (unfortunately only Thai channels), air conditioning and fridge. Thanks to our GSM sticks, we were able to log onto the internet from anywhere and avoid the tedious search for internet access or cafés.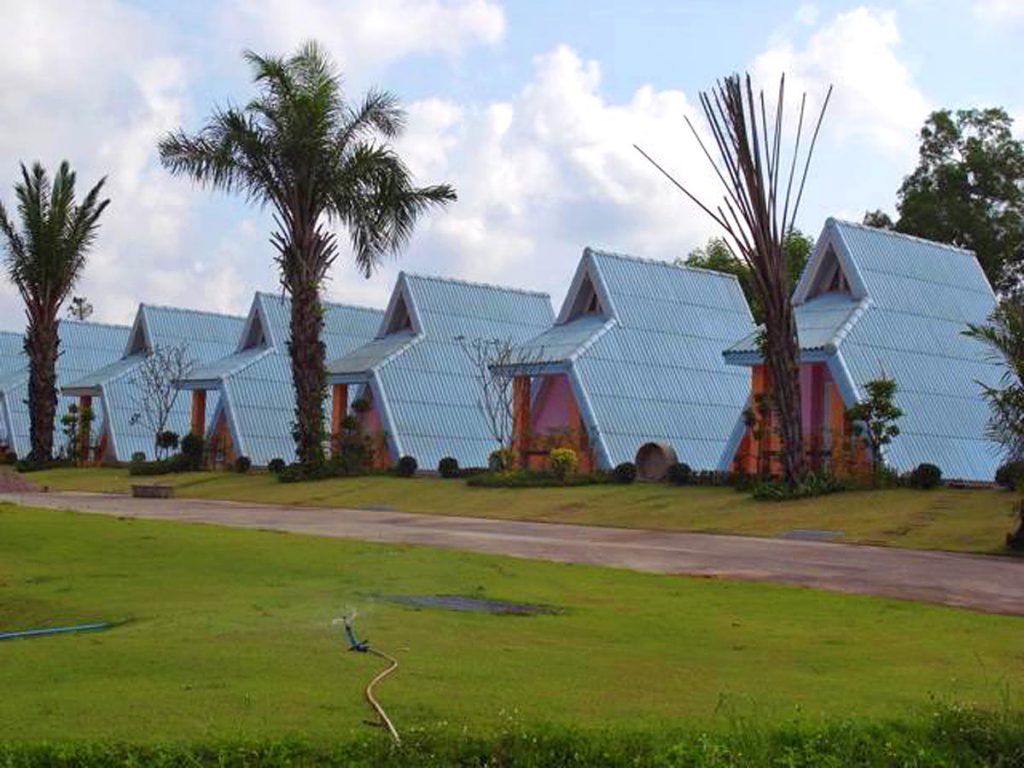 Dinner in Lang Suan
Unfortunately there was no restaurant and we drove once again to the small town. After we drove back from every direction over every intersection, we came to the conclusion that there is simply no restaurant in this town.
At the local market (where everyone looked at us as extraterrestrials, because there were no foreigners there) we found at least a fine dessert. Sticky rice with mango, mmhhh delicious! But of course we still were hungry, we drove thus further into a large shopping center and luckily, there was this MK restaurant chain and we ate quite well. It's just a kind of fast food chain (but without a burger).
Lang Suan to Chumphon and Ranong
We slept very well and the next morning we continued to the direction of Chumphon, then across to the west coast over, on to Ranong and just south of it we found a very comfortable accommodation right on the beach. The resort was very basic, laying cool under the trees and had several bungalows. But who says, what kind of guests do we meet there? Three caravans – two from Germany and one from Zurich. The world is really small.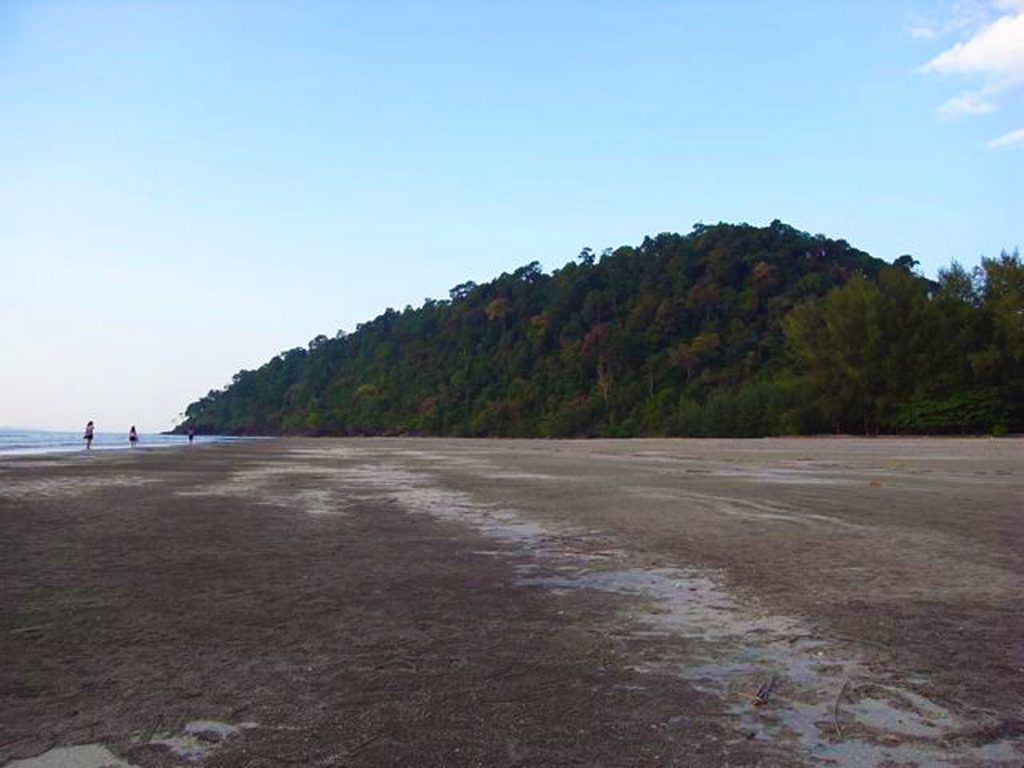 Lonely beach
It was a great, cozy Sunday. We swam in the sea and sunbathed on the beach. The beach was very natural and far and wide no people. Such a beach is really rare in Thailand. Mostly you can see a deck chairs covering the whole beach…
After sunset, we ate a very fine dinner, watched a movie and then went to sleep.
Khao Sok National Park
The National Park Khao Sok lies in Southern Thailand and for me it is one of the most amazing places in Thailand. The park is covered with the oldest evergreen rainforest in the world. It has huge limestone mountains and deep valleys. I also love very much the breathtaking lake, exciting caves where…(click here to continue reading).