Quick and refreshing Strawberry Sweet with joghurt

When the strawberry season arrives, there is nothing better than a simple and quick prepared strawberry sweet with natural joghurt, it is refreshing and tasty.
Recipe for 2 people, 2 small glasses.
Ingredients:
8 tbsp of natural yogurt without additives

2 tbsp of sugar
2 tsp of vanilla essence
6 big strawberries
How to prepare
Mix yogurt, sugar and vanilla essence, take two decorative glasses and pour 2 tablespoons in each glas. Chop 4 small strawberries and mix with 1 tsp of sugar, fill in the two glasses. Add remaining yogurt mixture to the glasses and decorate with strawberries.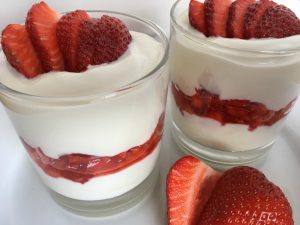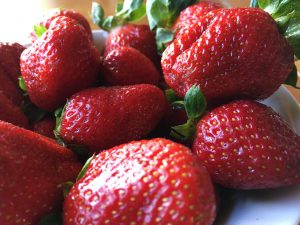 Worth knowing about the strawberry
Storage: sensitive fruits
Strawberries are extremely sensitive. Just a few hours after the harvest, they begin to lose their aroma. Therefore you should eat them as soon as possible. Unwashed and covered, you can store the sensitive fruits in the fridge for up to two days. A flat container prevents pressure points. Damaged fruits should be removed, they mold quickly.
Tips for preparing strawberries
Do not clean strawberries under a stream of running water, but in stagnant water. Remove stalk and sepals only after washing. Strawberries are best tasted fresh – either pure or with some whipped cream or ice cream. They are also popular in salads, dried in muesli or as a cake topping. Strawberry jam is a classic. By the way: the color of the fruit gives no information about its aroma! Deep red strawberries are not always sweeter, lighter fruits do not automatically contain more fruit acid.
Ingredients: Vitamin C

The aromatic fruits are good for the slim line with about 32 kilocalories per hundred grams. Noteworthy is their high content of fiber (pectins and cellulose), which promote digestion. Strawberries are also rich in vitamins. Especially their vitamin C content is enormous: it is higher than with lemons and oranges.
A 200 gram bowl already covers the daily needs of an adult. Strawberries also contain a lot of folic acid, which is important for pregnant women. With their content of calcium, potassium, iron, zinc and copper, strawberries provide also many minerals. In addition, the fruits contain polyphenols. These phytochemicals are said to help prevent cancer and cardiovascular disease.
A good lunch option is for example the healthy fitness lunch – salad with pork sirloin steak. Or have a look at another delicious recipe: Mango Mousse!