Quick and simple recipe
These cookies with mini smarties are easy to bake, are looking awesome and your kids will love it. But not also your kids like to eat the cookies with mini smarties, they are also great for the grown up boys and girls.
The smarties cookies are delicious, crispy outside and soft inside.
A real colorful classic, therefore also ideal as a gift for children's birthdays.
Ingredients

125 g butter
1 egg
200 g sugar
2 teaspoon vanilla sugar
1 pinch of salt
200 g flour
1/2 teaspoon baking powder
150 g  (3/4 cup) mini smarties for baking (possibly mixed with chocolate chips)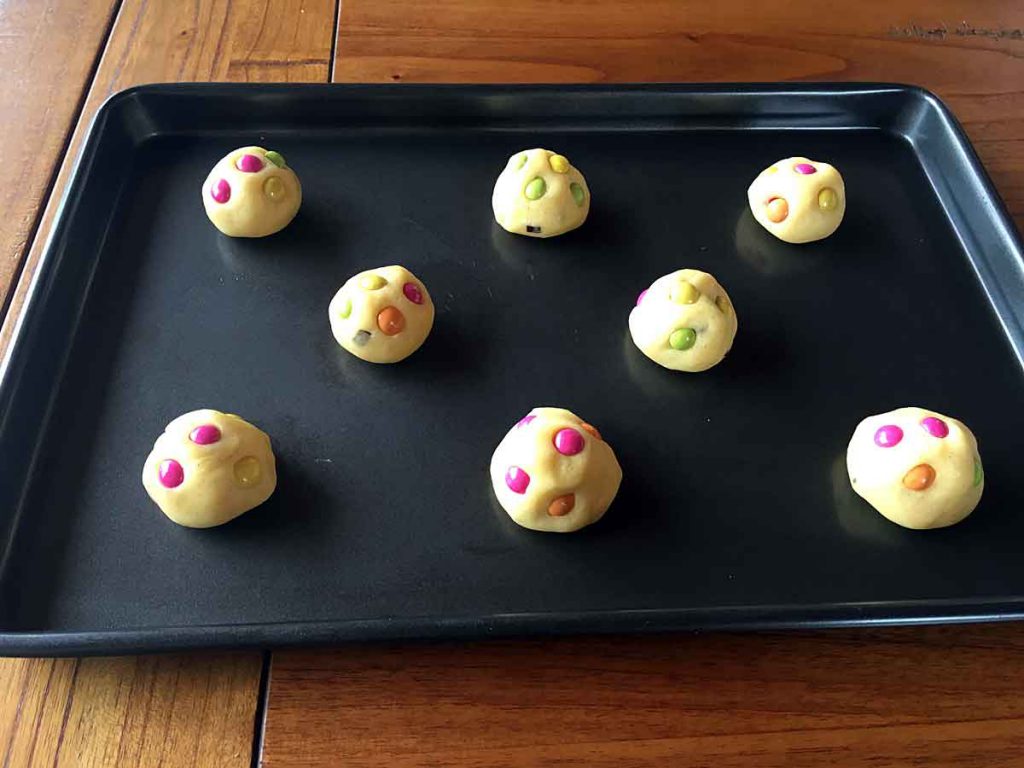 Preparation
1) Take a large bowl, put the softened butter in and stir well until foamy. Then add sugar and egg, mix all together until well blended.
2) Thereafter mix flour with baking powder and salt and stir in to the butter dough.
3) Meanwhile preheat the oven to 18°C.
4) Finally fold in carefully the mini smarties and eventually some chocolate chips.
5) Form the dough with 1 tablespoon to a rounded ball. Then put them on a baking paper or an ungreased cookie sheet.
6) Bake the rounded dough for about 10 – 15 minutes or until light brown.
7) Cool down for about 5 minutes on the baking tray, then transfer to a wire rack
Serving suggestion
Also a gut idea to serve with chocolate chips cookies or with home made chocolate ice cream.
Try my other awesome cookie recipe: Cookies with desiccated coconut!