This is a simply baked Chocolate Cake Dream, very moist and it tastes delicious! Try it, you will be surprised how easy and quick the Chocolate Cake is baked and how good it tastes. You do not need to take a course for a beautiful decoration, let your imagination run wild!
Ingredients
220 g butter softened
160 g sugar
5 eggs
1 teaspoon vanilla extract
50 ml milk lukewarm
1 pinch of salt
170 g flour
2 tablespoon cocoa powder
3 teaspoon baking powder
100 g chocolate chips
Frosting
6 tablespoon icing sugar
1 tablespoon cocoa powder
1 tablespoon chocolate chips
hot water
Decoration
2 tablespoon icing sugar
hot water
Instructions
Mixing well together the softened butter with the sugar until creamy. Then adding the eggs, milk and vanilla extract. Combine until smooth.
Mixing in a separate bowl flour, salt, cocoa powder, baking powder until well combined. 
Add this mixture in small portions to the first mixture, then stir in the chocolate chips.
Preheat the oven to 160° C fan bake.
I have used a round silicone baking form with a diameter of 23 cm. Although you shouldn't have to grease silicone, I have had better experiences with greasing and flouring. Simply spread with soft butter and dust with flour. Pour in the cake mass immediately and bake in the oven for approx. 35-40 minutes.
It is best to test with chopsticks before you take the cake out of the oven. Let it cool down for about 30 minutes. Then mix the frosting ingredients well together until it is liquid and easy to spread all over the cake.
After the frosting has dried mix the icing sugar with hot water and decorate the cake. Let it completely dry. Now the amazing Chocolate Cake is ready for eating. Enjoy!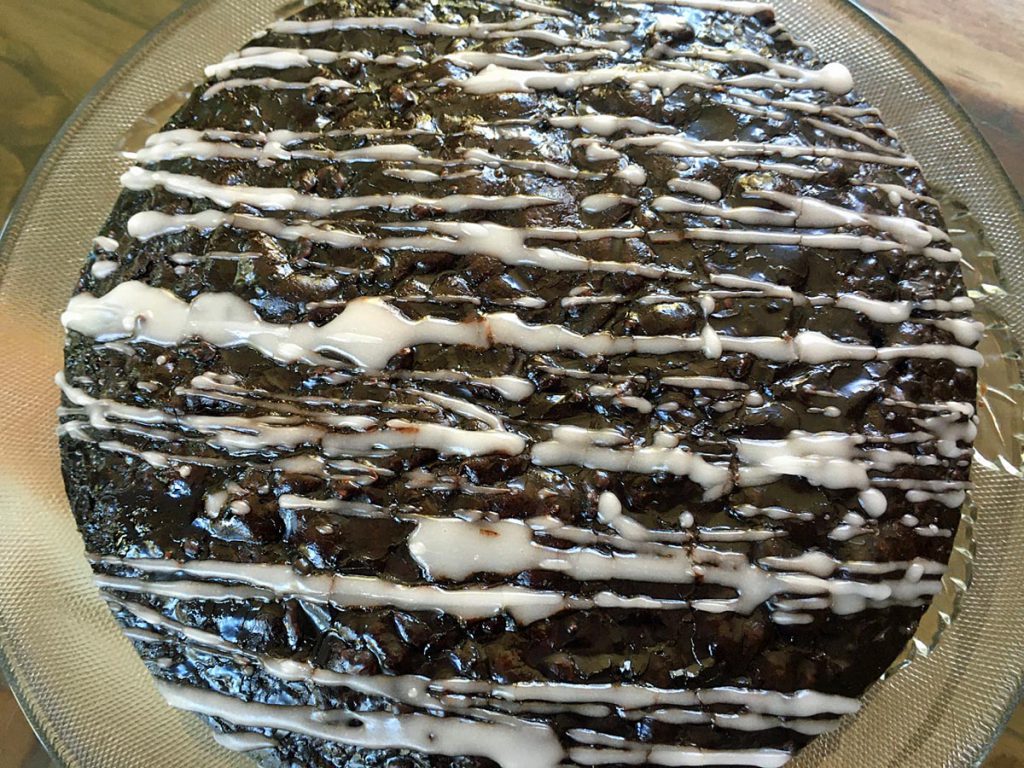 Try my other yummy recipes: Chocolate Chips Cookies, Mango Mousse Dessert, Chocolate Ice Cream or the Swiss Braided Bread! Delicious Strawberry Sweet.