The DIY small basket is another super easy upcycling denim sewing project. A small basket with brim or also called Utensilo. They are very handy for clearing away small things. Such as sewing utensils, hairbrushes, ties, cosmetics, skincare or beauty tools. You can put them in a drawer or on a shelf to keep your room neat and tidy.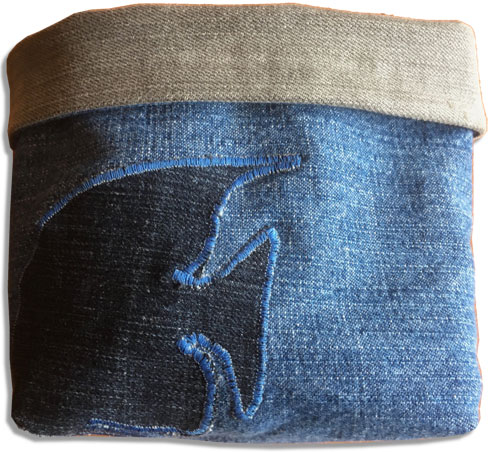 Just check your wardrobe and look if you have some Denim Jeans that you no longer wear. The used and faded look of the jeans just looks great for DIY projects.
Then think about how wide your basket should be. Maybe as wide as one of your Jeans leg? For example you can use a fabric decoration from your old jeans, cut it out and glue or sue it onto your project. Use two different colored jeans. One color for the outside and another color for the inside.
When calculating the basket length, take into account the brim and half the bottom width. Likewise the seam allowance.
Now cut two strips of the same length. Sew one long side together. Then fold the fabric right sides together so that one color is on the bottom and one color is on top. Sew all around and leave a turning gap on the inner fabric open. Now fold all four corners upside down and sew them off. That makes the bottom. Then turn the fabric through the opening and close the gap. Fold the open side, that's your brim. Now the cool and practical small basket is ready.
Are you looking for other DIY denim upcycling projects? Try the small pouch with zipper or the round pouf ottoman footrest or the small basket with brim.